Creating Soulful Homes While "Downshifting"


In an age of disturbing excess, my husband and I began a process of simplifying and "downshifting" (1) several years ago that has proven to be one of the most joyful times in our lives.

We could both afford to live in a larger, intended-to-impress house.

We, in fact, did exactly that in our past marriages.

But we happily choose to live in the first cabin built on the Bret Harte ridge in San Rafael, California in 1913.

Located on a steep hillside, it is surrounded by ancient trees and has a humbling view of Mt. Tamalpais.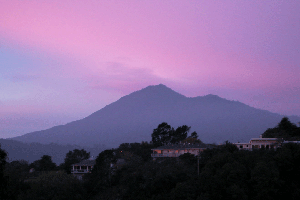 Magenta sunrise from our deck
This mountain is still a very sacred place for the Miwok Indians who used to inhabit the area.

For all of us, it is a daily source of beauty and inspiration.

We recently added a small apartment with a deck separate from

the main house.

Small free-form paths connect the two buildings, other decks and a stone patio, engendering the feeling of a small village, said a Dutch guest one summer.

There are varied destinations on the land, most with views of the mountain, where people can go to be alone and quietly reflect, or be with others.
We did not want a house that spoke of grandeur, pretension, expensive displays, elitism, clutter, or waste.
"You can change your life by changing your relationship to the 'stuff' that possesses you."
(2)
We wanted to create a home that is a warm, soulful sanctuary full of original art, bookcases bursting with colorful spines, fires glowing in a small stone hearth, wonderfully changing natural light

—

and at the space's core, time spent together.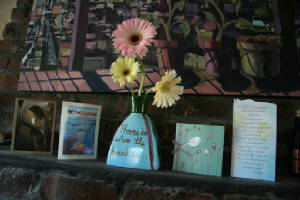 Original 1913 fireplace
"In places and people, we seek the elusive feeling of being welcomed.

We want our homes and apartments to be warm and nurturing and beautiful, but they are sometimes territories of chaos and confusion.

Yet, the haven the soul seeks is close at hand, within the stove and the cupboard, on the bookshelf, and in the closet.

With the eyes to see it, and the hands to create it, we can recover the home that the soul desires."
(3A)


Architect Anthony Lawlor gives a myriad of wonderful suggestions in his book A Home for the Soul.

Among his themes is one that espouses the importance of combining "the elemental forces of fire, water, and earth in a setting that allows us to reconnect with the elusive energies that ignite, nurture, and transform life."
(3B)


One of Lawlor's themes that was the most transformational for me personally has to do with the act of cleaning and maintaining our home:


"The word cleaning conveys [a] spiritual connotation.

The roots of the word clean suggest the purity conferred by a ceremonial anointing with oil.

Cleaning in this sense bestows a blessing on the house or apartment.

It makes whole the life of the house.

Another essential component of the spiritual practice is discernment, separating those things that honor the soul from those that do not.

Cleaning is the act of discerning what will benefit our homes and removing what will not.

Accumulating unnecessary and unused objects is a negative side effect in a consumer society…Cleaning allows is to discern those objects that enhance the flow of soul in the home from those that stifle that flow.

It can provide an avenue for passing on unused items to those who could gain pleasure from them." (3C)

For me, viewing the cleaning of our home in this meditational and soulful way has transformed my entire experience of what used to be often a banal, resented chore. Once again, a paradigm shift in thought enhances my overall life.

(1)
Duane Elgin, The Promise Ahead, New York: HarperCollins Publishers, 2000, page 82.

(2) Kaja Perina, Psychology Today, January/ February 2007 issue, page 33.


(3A & 3B & 3C) Anthony Lawlor, A Home for the Soul, New York: Clarkson Potter/Publishers, 1997, introduction & page 46 & page 38.

NOTE: Text for this left column is excerpted from the book: "Inspirations for Thriving in Our Troubled World." See the Products page of this website for more information.
"Thank you for your great site. What a beautiful creation. I am grateful to know about it."
— Nancy W., San Rafael, CA




DID YOU KNOW?


* There are 8 compelling

— and sanctuary-creating —

reasons to
banish
the TV from your bedroom.

http://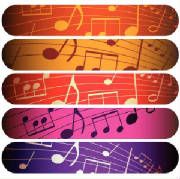 * "The ache for home lives in all of us, the safe place where we can go as we are..." — Maya Angelou

* "When we have the security of home and when we create long-term, soul-sustaining links to the natural world and to community, then we can know we are where we belong." — Sarah van Gelder, YES! Magazine, Summer 2012
Visioning One Meaning of Home & Family Culture



A safe and fundamentally positive place where…
*

We feel seen and heard
*

We can be accepted and celebrated for our fullest selves


* Truth and honesty triumph over secrecy and deception


*

We are truly respected by our loved ones and respectful to them
*

The art of thoughtfulness is organic and reciprocal
* There is a genuine balance of power

* Everyone makes a positive contribution

*

Everyone's hearts and minds are open to dialogue, collaboration, and new ideas

*

Criticism, contempt, defensiveness, stonewalling, and entitlement are left at the door

* No one is unjustly vilified or scapegoated

* No one is ignored, neglected, blunted, or taken for granted

* All family members are valued for their uniqueness


* "Equal treatment" elevates to "Fair treatment" which more effectively takes into account each individual's unique attributes and actions


* Like within any healthy community, each family member needs to demonstrate character in the form of trustworthiness, respect, responsibility, fairness, caring, and citizenship

* Anyone who is persistently negative, disruptive, and uncommitted to the peace and harmony of the home will be asked to leave for the sake of the rest of the family

* Every individual honors and sustains the reality of an emotionally and physically safe home

* Social justice and peace have their inception in the home
"The LOVE that begins in our hearts and homes becomes the PEACE that fills our world."
—
Jeannine Roberts Royce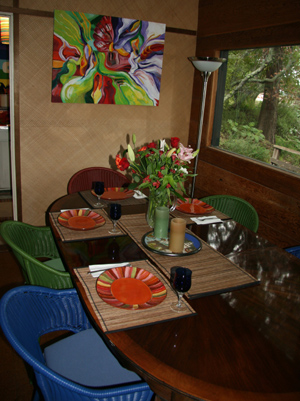 Warm & rustic dining room
The Varied Skills Needed to Create &
Sustain a Family Home of Quality
For a different multidimensional perspective of all that goes into making a home with kids, click the following link and read Salary.com's eye-opening
job description
.
Interested in our monthly News Clipping Service Subscription? Comes via email and works out to only 25¢ per week. Sample available:
http://www.qualityoflifenews.com/id9.html